Riding Equipment › Ecuyer Cavessons




Are you familiar with Deuber & Partner products? Please contact me if you are interested in the Ecuyer cavessons. I use this cavessons for my ground and longe work as well as for riding. The nose parts of these cavessons are made of bicycle chains, covered in leather (which adapts to every kind of nose bridge) and provided with three rings (the middle one for the longe, the side rings for the fourth reins).

The buckles are modelled on historical cavessons.

Cavesson standard, available in black or havana with brass or silver buckles. The throat latch can be removed.
The rings at the cavessons are always silver.
Price: 118,00 € *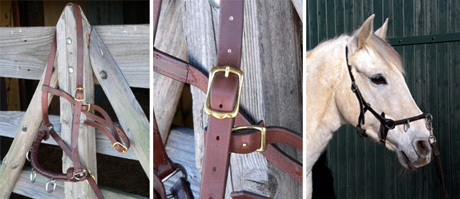 Would you like to order a saddle or do you want to know more about our products? Just send me an email: info@stefanie-staudinger.de,
or give me a call: +49 (0) 175 59 22 099.
*prices valid from March 1st, 2015
« back

Download